Click Park Map to Enlarge
See Rules Below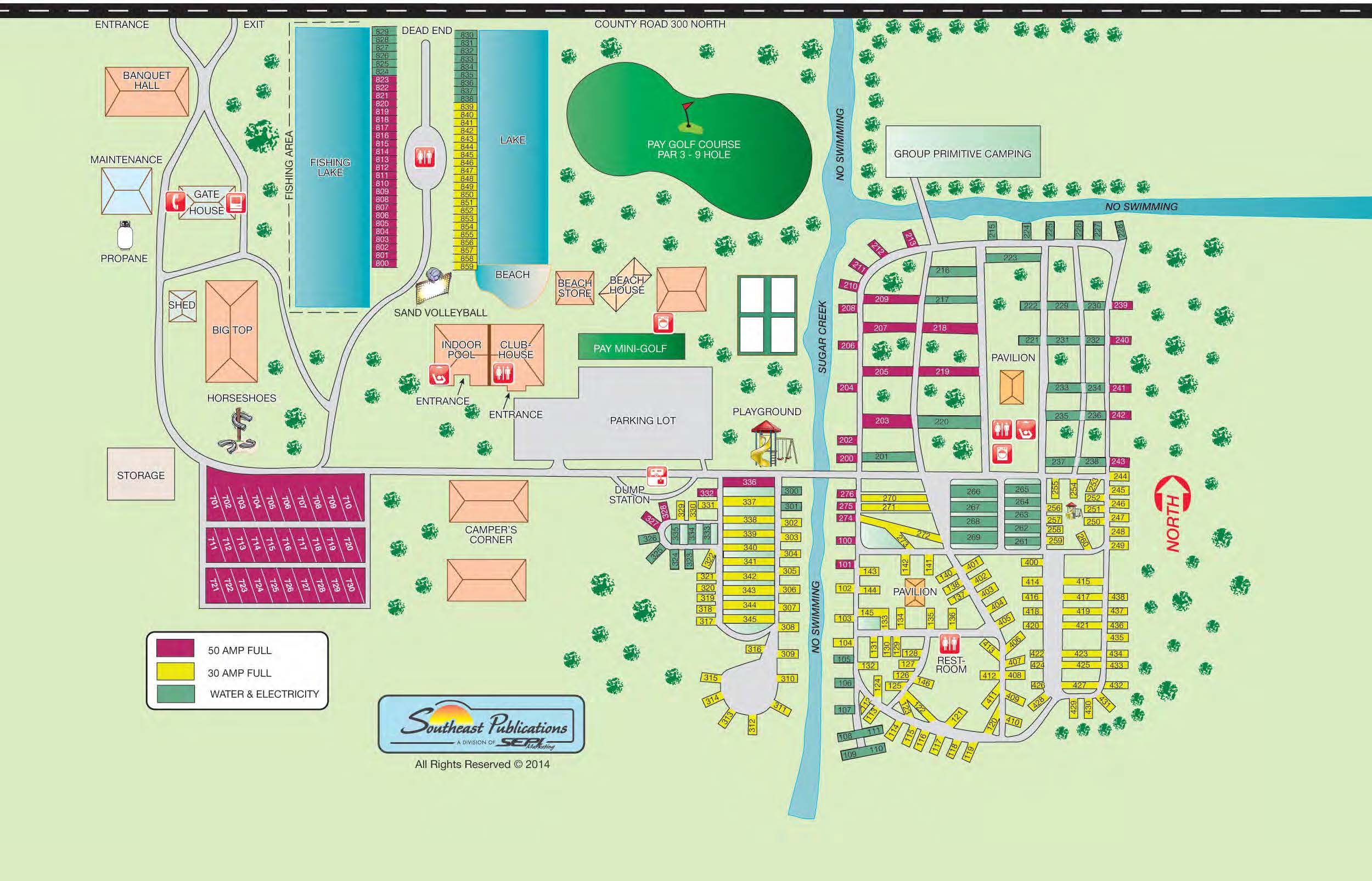 There's Always a few rules
For the comfort and safety of all guests please...
* ALL guest and campers must register at the park office upon arrival.
* Check in is After 2:00 pm. Early check in may be charged for half day.
* Campsites are based on one (1) camper unit, tent, pop-up, trailer, motor home and four (4) people per site.
* Extra people are charged $4.00per person, per night. Extra Tents, if for your dependant children, are $5.00 per night. All other tents are charged as an extra campsite.
* Reservations do not guarantee a particular site. We try to give the site requested: however, your reservation may be moved to another site.
* Check out is 2 pm. If not checked out by 2:00 pm, you will be charged for an additional night. If you are off your site by 2:00 pm, you may pay $4 per person for day use status to use the facilities.
* Guests visiting the park will be charged $4 per person for anyone over 5 years of age. You are responsible for your guests. Guests not registered to camp must be off the property by 10:00 pm.
* Please Do not drive on the grass. Park in front of your camper on the gravel. Two (2) vehicles maximum at the campsite. If you have extra vehicles, they may be parked in one of the parking lots. No parking on vacant sites.
* Speed limit is 15 MPH on the main road and 10 MPH in the campground. Please help protect our children.
* NO motorized or electric scooters or mopeds.
* Golf Carts on roads only. GOLFCARTS MUST HAVE GOLF CART FORM AND INSURANCE INFORMATION ON FILE IN THE OFFICE PRIOR TO USING THE CART.
* Campfires are permitted in fire rings only. Cutting trees or branches or gathering of firewood is strictly prohibited. Firewood is available for sale at the gatehouse. Do not build fires under trees!
* Trash is collected after 9 am. daily. You may leave bagged trash in front of your site after 8 am for pick-up. Do not leave trash out over night. Trash may be placed in the dumpster at any time.
* You are responsible for keeping your camp site clean. PLEASE HELP KEEP OUR PARK CLEAN.
* Alcohol is not permitted outside your campsite. Absolutely no alcohol in public areas. Misuse of alcohol will not be tolerated.
* Smoking is not allowed in any building, including restrooms. Please dispose of smoking materials properly.
* Quiet Hours are from 11 pm to 8 am.
Minors under the age of 18 must be be in their campsite during quiet hours.
* Swimmers under the age of 14 must be accompanied by a parent or guardian. The beach closes at sunset. Swim diapers must be worn by children not toilet trained. SWIM AT YOUR OWN RISK
* There is a fee for golf and miniature golf. Please pay at the office prior to using these facilities.
* Fishing is for campers only. There is a 2 pole, 5 fish limit per person.
* Seasonal site campers and monthly campers will mow and maintain their lots. Everything must be stored neatly under your camper.
* Pets must be kept on a leash; they are not permitted on the beach or in any building. You are responsible for clean up and noise control of your pets. Pets may not be left unattended.
* Fireworks, firearms or weapons of any type are not permitted in the park.
* Heartland Resort reserves the right to refuse service to anyone. Heartland Resort is not responsible for accidents, injury or loss of any kind. Guests agrees to indemnify and hold harmless, Heartland Resort and it's agents for any and all damages, loss, claims, cost of expenses, including attorney's fees, which Heartland Resort and/or it's agents may suffer or incur or become obligated to pay pursuant to claims by others suffered or arising out of you or any of your guests' acts or omissions.
* By entering Heartland Resort and/or paying any fee, guests agree to the above rules and conditions. Guests agree to be responsible for the repair/replacement cost of any damage, and they may be immediately evicted from the property for damage or violation of the rules. NO REFUNDS FOR ANY REAASON.