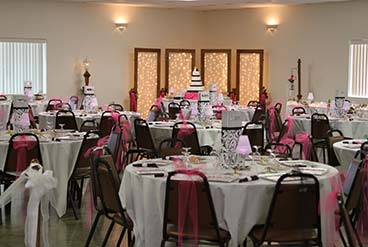 A great place for groups!
Make Heartland RV Resort your next gathering place. RV Rally Groups are welcome! There are plenty of Big Rig RV Sites available, amenities to enjoy, and the location is perfect.
For outside Groups - Wedding Receptions, Family Reunions, Corporate Meetings, whatever your needs, Heartland Resort has the space. For smaller groups, there is a Meeting Room that will house up to 75 people. There are two Banquet Halls available for rent. The small Banquet Hall has a capacity of 200, while the large Banquet Hall - Club House - will hold 250. We encourage you to view these facilities. Call for more information and to set up an appointment.
Banquet Hall Rental Rates:
Small Hall - $600 + Deposit, Insurance, and Tax
Large Hall - $700 + Deposit, Insurance, and Tax
Pavilion - Open Covered Shelter with Picnic Tables for any sized group.
Rental Rates: $150 + $6/person, Insurance, and Tax.